The Shelby County Genealogical Society formed at the public library in Sidney in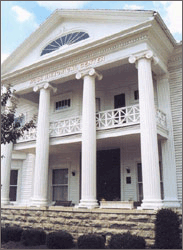 November 1975 when fifty-two genealogy students of D.A.R. members, Mrs. Barbara Adams and Mrs. Gene Mozley, decided to organize a group to help others research their family histories.  After thirty-nine years as an independent group, the current membership has voted to associate as a Chapter of the Ohio Genealogical Society.  Representatives received the chapter's Charter at the 2015 OGS convention in April.
Shelby County lies in west-central Ohio, midway between Cincinnati and Toledo.  It was established in 1819 on land that had first been part of Hamilton County, then Montgomery County, and then Miami County.  Records before 1819 may lie in those archives.  The city of Sidney was founded beside the Great Miami River in 1820 to serve as county seat.  The Miami and Erie Canal, the Underground Railroad, two bisecting railroads, the Appalachian migration, the Dixie Highway, and Interstate 75 have helped Shelby County receive and integrate immigrants of many and varied origins, descendants of whom have scattered to all points of the earth. We trace paths in all directions.
The SCGS has assembled a library of Shelby County genealogical resources at the Amos Memorial Public Library, Sidney, including microfilmed local newspapers and many courthouse records, as well as family genealogies, and hundreds of other books.
In another 2015 move, the Shelby County Genealogical Society and the Shelby County Historical Society accepted a donation of $100,000 from Mr. Dick J. Adams, in memory of his late wife, a co-founder of SCGS.  The award made possible the July 17 opening of the Barbara Adams Genealogical Research Center within the Ross Historical Center, 201 N. Main Ave, Sidney.  The two societies will remain separate organizations while operating as cooperatively possible in the same location.
The SCGS quarterly newsletter, Shelbyana, includes each year the list of over forty Shelby County genealogical publications the group has available for sale.  The book list is available for SASE.  SCGS is also on Facebook.  Annual membership dues are $12.  Society volunteers will pursue basic research requests for a donation to the society, to cover expenses.  Contact Phil Abbott, editor, 17411 E. Mason Road, Sidney OH 45365.
Our Mission
Locate, restore and preserve all materials of genealogical and historical significance
Cooperate with organizations and individuals who have a common interest
Promote interest and enjoyment in genealogy and related historical research
To better understand and appreciate our ancestors
Officers
President………….Ray Crump
Vice President…..Karen Sayre
Secretary………….Robin Laughlin
Treasurer………….Margaret Eleanor Kessler
News Editor
Society Meetings
The Shelby County Genealogical Society meets at 7:00 pm on the 2nd Tuesday of each month (excluding March & December) at the Ross Historical Center, 201 N Main Ave, in Sidney.