The Shelby County Genealogical Society was founded in 1975 through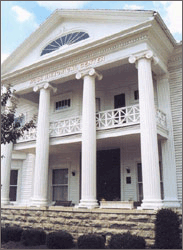 interest created when free classes for beginning genealogists were offered at the Amos Memorial Library by Library Director Doris Stephens and DAR members Barbara Adams and Gene Mosley. The Society currently has 87 members nationwide.
Partnering with the Shelby County Historical Society in 2015, the society now has a permanent home in the Barbara Adams Genealogy Research Center in the Ross Historical Center, where we house a wealth of information relevant to our Shelby County ancestors, including birth, marriage, divorce, death, Children's Home, school, church, military, will abstracts, land sales, executors and administrators.
Officers
President……………….Karen Sayer
Vice President………..Jim Watkins
Secretary……………….Robin Laughlin
Treasurer………………Margaret Eleanor Kessler
Members-at-Large…Nancy Steinke & Virginia Thompson
Newsletter Editor
Society Meetings
The Shelby County Genealogical Society meets at 7:00 pm on the 2nd Tuesday of each month (excluding March & December) at the Ross Historical Center, 201 N Main Ave, in Sidney.
Your Shelby County Genealogical Society is always here to help!